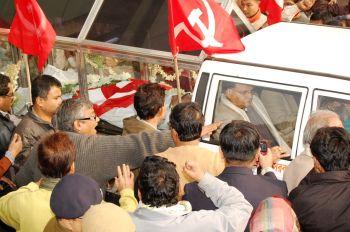 Former West Bengal chief minister Jyoti Basu's body being taken to his residence from the hospital on Sunday afternoon
Marxist patriarch and former West Bengal Chief Minister Jyoti Basu, who was battling for life in a hospital in Kolkata for the last fortnight, died on Sunday. "I have to give you the sad news that Jyoti Basu is no longer with us," Biman Bose, the chairman of the Left Front coordination committee, told reporters around 1230 IST.
An emotional Bose said Jyoti Babu is no longer in this world.
Basu, 96, who had suffered multi-organ failure was on a temporary pacemaker since late Saturday night.
Basu's personal physician Dr Ajit Kumar Maity said that the veteran leader breathed his last at 11:47 am at the AMRI Hospital where he was admitted with pneumonia on January 1.
He was put on a ventilator on January 6. Basu, who strode the political arena like a colossus for over six decades, is survived by son Chandan. His wife Kamal pre-deceased him four years ago. The Communist Party of India leader was the longest serving chief minister in Indian political history. A founder member of the CPI-M politburo from the days of its inception in 1964, Basu was regarded as many as the 'cornerstone of Bengal politics.'
Born on July 8, 1914, in an upper middle class Bengali family in Kolkata, Basu's father Nishikantha Basu was a doctor. After attaining school education from St Xavier's Collegiate School and graduation from Presidency College Arts Faculty in Kolkata, Basu travelled to the United Kingdom to study law, where he was introduced to the Communist Party of Britain.
Basu returned to India in 1940, and after qualifying for the bar, he became a full-timer in the Communist Party of India. Basu was elected to the Bengal legislative assembly in 1946, contesting the railway constituency.

When the Communist Party of India split in 1964, Basu became one of the first nine members of the Politburo of the newly formed Communist Party of India-Marxist. In 1967 and 1969, Basu became deputy chief minister of West Bengal in the United Front government.
From June 21, 1977 to November 6, 2000, Basu served as the chief minister of West Bengal for the Left Front government. In 1996, Basu seemed all set to be the consensus leader of the United Front for the post of prime minister of India.

However, the CPI-M politburo decided not to participate in the government, and Janata Dal-Secular leader H D Deve Gowda instead became the Prime Minister.

Basu resigned from the chief ministership of West Bengal in 2000 for health reasons and was succeeded by fellow CPI-M politician Buddhadeb Bhattacharya.
Source: rediff news
Jyoti Basu is a fan of Swami Vivekananda – Sri Sri Ravishankar